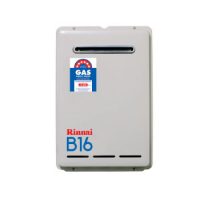 RINNAI B16 LT PER MINUTE, ELECTRIC START (BUILDERS RANGE)
The Rinnai B16 LT per minute is a hot water system from the renowned Japanese manufacturer, known for their extensive range of high-quality hot water systems.
Adelaide Emergency Plumbing provides 24/7 service and installation for the Rinnai B16 LT per minute, ensuring reliable assistance whenever you need it.
This hot water system is designed for energy efficiency, heating water only when you turn on a tap, which helps conserve energy and reduce household running costs.
With an impressive 6-star energy rating, the Rinnai B16 LT per minute is one of the most energy-efficient 16L continuous flow hot water systems available in the Australian market.
The Rinnai B16 LT per minute incorporates Japanese technology, known for its reliability and performance.
Enhance your hot water system experience by customising and completing your Infinity 16 system with a comprehensive range of hot water controllers available for this model.
It is suitable for medium-sized units, apartments, and homes, catering to the hot water needs of households with moderate demand.
Benefit from the manufacturer's 10-year warranty, ensuring peace of mind and coverage for potential defects or issues with the hot water system.
Adelaide Emergency Plumbing offers a 5-year workmanship warranty, further guaranteeing the quality of installation and service.
Contact Adelaide Emergency Plumbing today for service, repair . replacement and installation, and to discuss the Rinnai B16 LT per minute hot water system for your specific requirements.
Efficient and Reliable: Rinnai B16 LT Hot Water System with 24/7 Installation Support
Experience superior hot water efficiency with the Rinnai B16 LT per minute, a standout product from the esteemed Japanese manufacturer, renowned for high-quality systems. Adelaide Emergency Plumbing ensures seamless 24/7 installation services for this energy-efficient hot water system, boasting an impressive 6-star rating.
Designed to heat water on demand, it not only guarantees reliability but also contributes to reduced household running costs. Ideal for medium-sized homes, apartments, and units, the B16 LT delivers a continuous flow of hot water at a rate of 16L per minute.
With a 10-year manufacturer's warranty and an additional 5-year workmanship warranty from Adelaide Emergency Plumbing, users can trust in the product's durability and professional installation. Elevate your hot water experience with this advanced system, tailored to meet the diverse needs of modern households. Contact Adelaide Emergency Plumbing for hot water system installation, hot water system repair, or to discuss your specific hot water needs.
Related Products