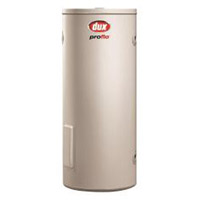 DUX PROFLO 125 LT ELECTRIC CYLINDER HOT WATER SYSTEM
Dux is a trusted brand in Australia known for manufacturing high-quality hot water systems. They offer a wide range of hot water solutions to meet the needs of different households and applications.
Dux hot water systems are designed with efficiency and durability in mind, providing reliable and energy-efficient performance. The brand has a strong reputation for innovation and technological advancements in hot water system design.
They offer both electric and gas-powered hot water systems, catering to different energy preferences and availability.
Dux hot water systems are designed to comply with Australian standards and regulations. The brand prioritises customer satisfaction and provides reliable service and installation support.
This system is designed and manufactured in Australia and can be installed both indoors and outdoors.
It is part of the Proflo range, known for its efficiency and high quality.
The Proflo series is available in various tank sizes to accommodate homes of different sizes, and it delivers full mains pressure.
The 125L Proflo model is also available in a 'narrow diameter' version, offering a space-saving solution.
The system includes a larger anode, which helps increase the tank's lifespan.
It features a hard-wearing, tough polymer base that resists damage and moisture.
The Dux Proflo 125L requires low maintenance and offers a long service life.
Adelaide Emergency Plumbing offers fully installed, same-day hot water service for this system.
The tank is backed by a 7-year warranty, while full parts and labor are covered for 1 year.
It ensures full flow pressure to all taps, providing a satisfying hot water experience.
Installation is made easy with water connections on both sides of the tank.
The system can be installed indoors or outdoors to suit your preference.
It features an attractive appliance white finish, contributing to a cleaner and modern appearance.
Additionally, there is a 5-year workmanship warranty to ensure the quality of the installation.
Adelaide Emergency Plumbing will provide guidance on any compliance or additional requirements for the installation of the new hot water system. Get peace of mind with our reliable 24/7 hot water service. Call us today to have your hot water system serviced or installed.
Related Products