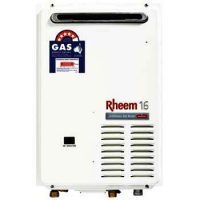 RHEEM 16 LT METRO GAS HOT WATER SYSTEM
Rheem 16L Metro Gas is one of the leading gas hot water systems in Australia that delivers hot water instantly, as it heats water only when you need it, and for as long as you need it.
With the Rheem 16L Metro Gas, you never have to worry about running out of hot water, thanks to its continuous flow gas water heating technology.
This gas hot water system is energy efficient, with a 6-star rating, which means it can reduce your gas bill and carbon footprint while providing you with reliable hot water.
The Rheem Metro Continuous Flow gas water heater is a compact, medium-capacity model that's perfect for homes with limited space, such as apartments and townhouses.
The system is designed to deliver 16L per minute of hot water, which is ideal for small to medium-sized households with a few bathrooms and taps.
The Flamesafe® overheat protection feature ensures that the heater automatically shuts down before overheating can occur, providing added safety and peace of mind.
The Rheem 16L Metro Gas hot water system comes with remote temperature controller options, allowing you to set the best and safest temperature for different taps around the home.
The system has improved hot water flow delivery at cold start-up, which saves water and provides faster hot water delivery.
The Rheem 16L Metro Gas hot water system comes with a 3-year parts and labour warranty, a 5-year installer warranty, and a 10-year warranty on the heat exchanger, providing you with peace of mind and protection against defects and malfunctions.
This hot water system is available in both natural gas and propane, making it a versatile option that can be used in different settings and environments.
Adelaide Emergency Plumbing offers full installation and same-day hot water service for this model, ensuring that you have access to reliable and efficient hot water when you need it.
For installation or repair of your hot water system, call us today.
Related Products