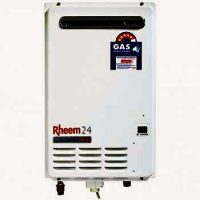 RHEEM 24 LT METRO GAS HOT WATER SYSTEM
The Rheem 24L Metro Gas is a continuous-flow gas hot water system that is designed to provide hot water on demand. It heats water when you need it, for as long as you need it, so you never have to worry about running out of hot water.
This hot water system has a sleek and modern design that is available in a range of designer colours to suit any home decor. It is compact in size and can easily fit in limited spaces, making it an ideal choice for apartments and townhouses.
The Rheem 24L Metro Gas is a highly energy-efficient hot water system that has a 6-star rating. It is available in both natural gas and propane options, and it is designed to reduce your gas bill and carbon footprint.
With a hot water delivery of 24 litres per minute, this hot water system is capable of providing continuous hot water for the largest of families. It also comes with a remote temperature controller that allows you to set the best and safest temperature for different taps around your home.
The Rheem 24L Metro Gas comes with a 10-year warranty on the heat exchanger, a 10-year parts warranty, and a 3-year labour warranty. This ensures that you have peace of mind knowing that your hot water system is protected and will be repaired or replaced if any issues arise.
Adelaide Emergency Plumbing offers a fully installed, same-day hot water service for the Rheem 24L Metro Gas hot water system. Our hot water plumbers will also advise you on any compliance or other items needed for your new hot water system, so there are no surprises.
With over 80 years of local manufacturing experience, Rheem is a trusted and reliable brand when it comes to hot water systems. They offer an extensive range of hot water heaters to suit any Australian home, ensuring that you can find the right hot water system to meet your needs.
If you're looking for a hot water system that is energy-efficient, provides hot water on demand, and comes with a range of warranties, then The Rheem 24L Metro Gas is a great choice.
You can call Adelaide Emergency Plumbing to discuss their fully installed hot water system prices and see if this hot water system is the right fit for your home.
Related Products